WE-cycle, the Roaring Fork Valley's homegrown bike-share program, began operations for the summer season last week in Aspen and Basalt, and for the second year in a row, it will be entirely fare-free for rides under 30 minutes. The free program, which may be the only one of its kind in the country, is possible due to underwriting by the city of Aspen, the town of Basalt and Eagle County.
Now in its seventh season in Aspen and fourth in Basalt, WE-cycle understandably saw a boost in its ridership last year with the switch to a free system and an expanded presence — which will grow even more this summer — in the midvalley. It's a boost that didn't go unnoticed by the upper valley's transportation heads.
"The most exciting thing is that there was a really positive response to fare-free WE-cycle last season," said WE-cycle Executive Director Mirte Mallory. "The continuation of the jurisdictions committed to continuing that service for this year is an affirmation of how bike-share was being used for its intended purpose, which is for short, first- and last-mile trips, primarily to and from transit hubs. We continued to see a pattern of people riding to and from bus stops, as well as in and around towns for short, quick trips."
The WE-cycle bikes cost 50 cents per minute after the first half-hour, but that was rarely necessary last year, according to Mallory, who noted that "97 percent of the rides last year were under 30 minutes."
While it may be fare-free, the bike-share program is, of course, not entirely free. With its fleet of 250 bicycles, along with their docking stations and the staff required to maintain them and run the business, the nonprofit WE-cycle has a yearly budget in excess of $200,000. The bulk of that is supplied by the city of Aspen, which will be contributing $145,000 this year. Basalt is pitching in $30,000, and Eagle County is adding another $45,000.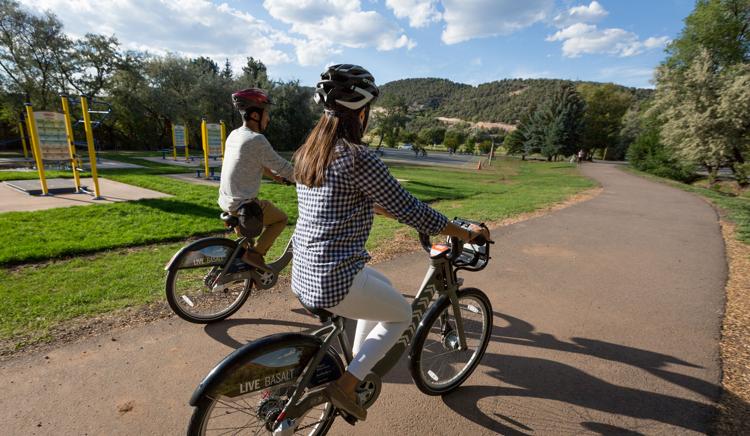 It's a decent sum of money, but it's not a huge expense for a free version of an increasingly popular system that can now be found just about everywhere in America (Mallory called bike-sharing "an expectation in most communities"). With that being so, one might be tempted to think that fare-free versions would be catching on everywhere, but that doesn't seem to be the case.
"As far as I know at this point in time, we are the only entirely fare-free system in the United States for 30 minutes at a time," said Mallory. "And that is because it is a unique characteristic of our community that we have fare-free first-and-last-mile and in-and-around-town transit, with the fare-free city of Aspen buses, as well as the Downtowner. So it's consistent with our other transit offerings. As a result, our valley as a whole has a high usage of public transportation services."
This season, Aspen will see the return of the popular 8th Street WE-cycle location by the bus stop now that the Castle Creek Bridge project has been completed. The reopened station means that there is now only one station at 4th Street, south of Main near the Hopkins Avenue bike and pedestrian way. The last change in Aspen is that, "thanks to strong ridership and rider requests," the station at the Aspen Recreation Center will be in place the entire season.
In Basalt, the changes are a little more substantive, with the return of a station at Elk Run Drive and Wren Court in the Elk Run neighborhood and new stations at Evans Road in the Willits neighborhood and the Roaring Fork Club's employee housing. "The goal is to have their employees ride to and from Basalt and to and from the buses," said Mallory. "We're really excited about that partnership and being able to work directly with our private partners to help them deal with their transportation needs."
Another service that has Mallory excited for this year is Movimiento en Bici, WE-cycle's Latino outreach program, which received a grant from the Better Bikeshare Partnership to help support Spanish-language learn-to-ride bicycle classes and other bike-share ridership initiatives for the valley's Latino community. The series will kick off in partnership with English in Action and the Valley Settlement Project with events this month and another in conjunction with Aspen Valley Ski Club's Pedeleando event in Carbondale in June.
"It's all part of our commitment to offering equitable bike-share service to all members of our community," said Mallory. "We want to give them that joy of being on a bicycle again. We heard that from a lot of our Movimiento en Bici participants, and we hear that from all of our riders: 'Being on We-cycle makes me feel like a kid again.'"