Sometimes a family will walk up to the fire station in downtown Aspen and tell one of the volunteer firefighters who are working inside how much their child loves firetrucks. The volunteer will walk the family into the bays and even invite the child to get up in the truck, but often the child will stand frozen, unable to talk. For them, it's like meeting an idol; they're floored by the size and presence of the vehicle. Still, without even getting in the truck it's all the child will talk about for the rest of the day.
The station serves as the headquarters for the Aspen Fire Protection District which comprises 87 square miles from Aspen to the Watson Divide, including Woody Creek, Lenado the Castle Creek Valley and the Pitkin County Airport. Within those boundaries sits $26 billion dollars worth of property — and it's all protected by volunteers.
Fire Chief Rick Balentine is one of a few paid staffers in the district. He can see the work of the volunteer team from his office overlooking the firebay.
"It's the camaraderie, the teamwork that we have built up here right now — it really brings tears to my eyes when I see people working together," Balentine said.
These days, responding to structure fires is a minute portion of what the district does. Wildland fires are a bigger threat, as is no surprise to valley residents affected by the Lake Christine Fire that broke out on Basalt Mountain over the Fourth of July festivities last year.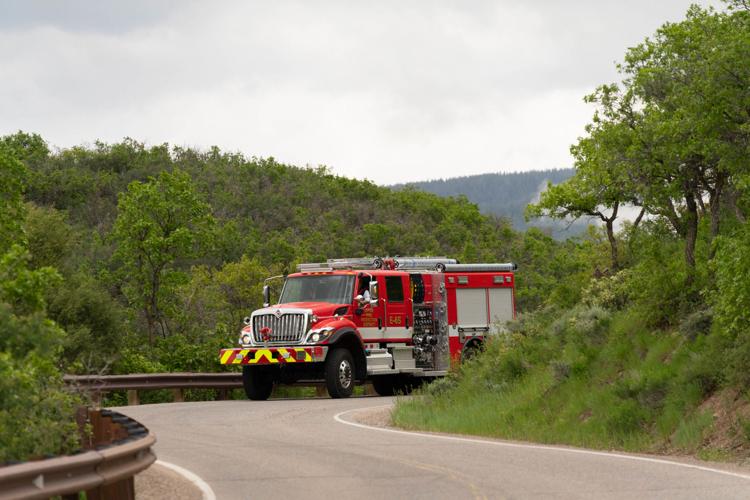 Kim Doyle Wille is one of those residents. She lives in the El Jebel Mobile Home Park and remembers clearly the evening that the fire crested the mountain and rushed toward her neighborhood.
"My stomach dropped because the entire skyline was orange and red," Doyle Wille said.
She called 911 and was relieved when shortly after she saw Aspen firetrucks rush into the neighborhood, but they didn't head toward her home.
"I screamed, 'No you're going the wrong way,' but there was no wrong way at the point, [the fire] was coming down at every street," she said.
Doyle Wille herself previously worked within the Basalt Fire District. She hailed down Balentine and showed him where the fire was coming into her yard. She hooked up her garden hose to douse her property against the oncoming fire. He left her to it, but continued to check back in on her.
"Rick ran in to check on me 11 times," said Doyle Wille. "I figured out that he ran a mile, two miles during those 11 trips."
It wasn't just during the initial threat that Balentine kept watch over the neighborhood. During the time that the El Jebel Mobile Home Park residents were evacuated, as Balentine would patrol the area keeping his eye on hot spots, he'd also take the time to water residents' gardens.
"I saw a lot of work that people had put into their yards and their flowers," Balentine said. "I've never told anybody this, but I know how my wife Bridget feels about her plants, and so I really did, as I was doing my rounds, water those flowers, because they needed water."
Giving back
Bridget helped pull off the surprise when Balentine was recognized this winter with the Aspen Chamber Resort Associations' Molly Campbell Service Award during the community Winterskol celebrations. Balentine didn't know he was the recipient until his name was announced, and shies away from the praise.
"It wasn't just about the fire department, it was about being here for the community," Balentine said. "That's what we do, that's what I do. I feel honored."
Putting out fires is actually a small fraction of what the Aspen Fire Protection District does. Most of the department's work is creating an environment where fires never start in the first place. The district is currently digitizing blueprints of every commercial building in its boundaries and creating "pre-plans" that allow them to quickly identify exits and safety hazards if a fire were to break out in any business. The firefighters on scene will be able to pull up the pre-plan on an iPad and quickly find the best escape routes, while also being notified where people might be in the building. Private homeowners can also receive wildfire risk assessments on their properties.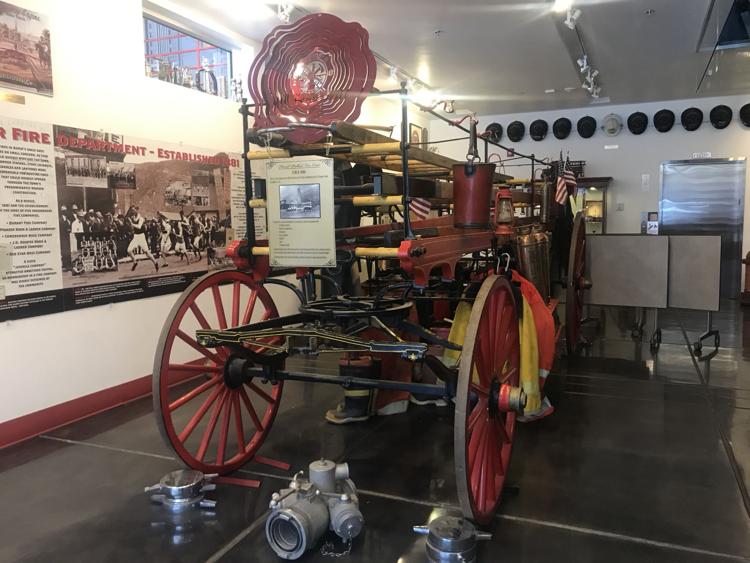 There is a two-story history museum within the Hopkins Avenue headquarters, featuring original bugle horns from the 1880s as well as the ladder carts that the team used to have to pull to a fire themselves. Area students will come to the museum for field trips. Charles Curtis is the district's fire prevention specialist and also puts on educational programs in the schools teaching young children fire safety.
"They practice fire drills at school all the time but they don't necessarily practice it at home," said Curtis.
He helps teach kindergarteners through third-graders basics like "stop, drop and roll," "crawl low under smoke" and "get out, stay out." He said it's important for children to become aware of what to do in an emergency and he encourages older kids to teach their younger siblings about fire safety. Getting kids comfortable around firefighters is helpful too. Sometimes he will slide down the fire station pole, or let students ride in one of the engines.
Curtis also oversees the volunteer firefighter recruitment program. District residents 18 years or older can apply to join the team. There are opportunities to begin assisting right away, and once there are enough trainees valleywide, a fire academy class starts. All firefighters must obtain and maintain their Firefighter I state certification as well as certificates in hazmat operations and awareness, and training as an emergency medical responder.
Recruits are tested on mental toughness in situations that deal with heights or tight spaces; they must complete simulations of on-the-job situations such as climbing stairs with a weighted pack and rescuing a victim by dragging a dummy to safety. There is a minimum number of emergency calls that the volunteers must respond to each year to remain an active member. They are also required to attend station meetings.
There are more than 40 active volunteers currently — men and women whose day jobs run the gamut from law enforcement to lawyer, bartender to business owner. Teams are on call for a full week of each month.
"A lot of our recruits are a little bit more established, they are the ones that can find the time," said Curtis.
For the most part, from all of them, you will hear that they joined because they wanted to help the community. As canned as this answer is, said Curtis, it is genuine. All the members also have their own stories as to why they joined and why they stayed.
Volunteers' families added to AFD family
Under Balentine's leadership, it's not just new recruits that get an orientation, but their families as well. A handbook for the family explains everything from the gear that the firefighters use to the time commitment needed to do the job successfully. There is also a section titled "Preparing for the Worst: Talking about Line-of-Duty Death or Injury."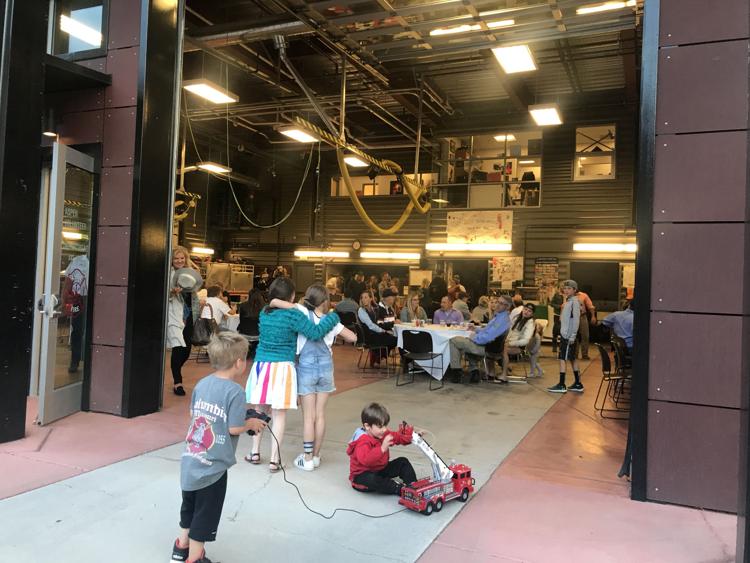 It's all part of a shift in focus on mental health, for the firefighters and their families.
"If I can leave any kind of legacy at all for this department, and this valley, and first responders, it's stepping up and talking about it," said Balentine about his push for more openness around the topic of mental health.
"More firefighters and first responders die of suicide than everything else combined, so to ignore it would be irrresponsible," he said.
For a department that has been around for almost 140 years, there's some lingering old boys club mentality that is hard to shake.
"I think back on my career where I probably should've spoken to somebody and instead we find other ways to deal with it," said Balentine.
First responders have a much higher divorce rate than the ­national average, some data showing it to be as high as 80 percent. Balentine points out it's not just the firefighter who is woken up in the middle of the night when a page comes through — it's the whole family. For the volunteers who get called away from work, they might respond to an emergency and then have to go directly back to their day job, without opportunities to process the incident.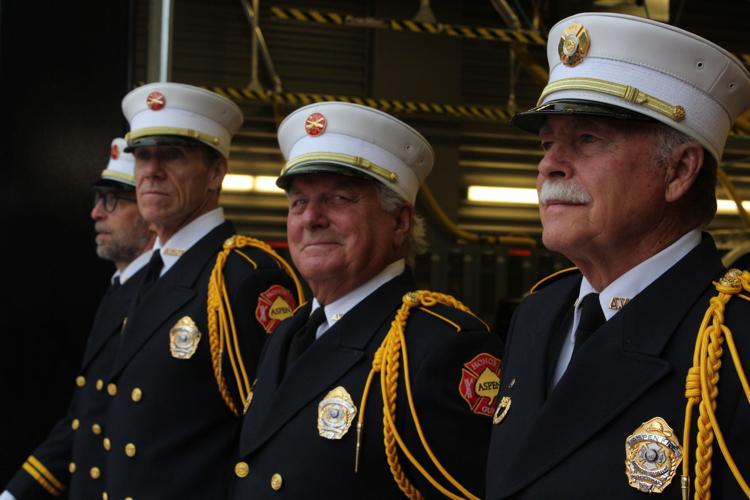 "We give our firefighters all these tools to fight fires but not a lot of mental tools to really cope with some of the stuff that you have to do, and it's not just because you have to see nasty stuff a lot of the time. There are lots of stresses; you are away from your family, there's loss of sleep," Balentine said.
There is now a free yoga class for members and their families, and Balentine is considering a mandatory annual mental health checkup to normalize the practice of seeking out help. He's also trying to change the "hero" narrative to allow for those vulnerabilities.
"Being called a hero, to me that's a bad thing because its makes everybody feel 'I gotta be strong, I can't show any weakness,' so I've tried to change the perspective and the stigma that goes along with it. It's tough to get over," he said.
The fire district is looking to increase partnerships with area nonprofits for these services. Being a small volunteer department, there is no therapist on staff like there might be in a larger metropolitan district. Balentine also pointed out that because the team is made up of locals, and the local population is relatively small, it's not uncommon for firefighters to show up to an emergency scene where they know the victim, which can be especially traumatic.
Community philanthropy powers new vehicles, stations
Yet that community connection is also where Aspen Fire finds its strongest supporters. Last fall, district voters approved a tax increase to help fund the fire department and build housing for volunteer members. Efforts are also underway to give the fire district a new building in Woody Creek that would also include housing for a volunteer firefighter.
And this summer, a brand new firehouse in the Starwood Metropolitan District will open. The firehouse, designed by local architect Charles Cunniffe, will house a new hybrid truck that can respond to structure fires and wildfires. It also includes a pair of two-bedroom apartments for firefighters and their families.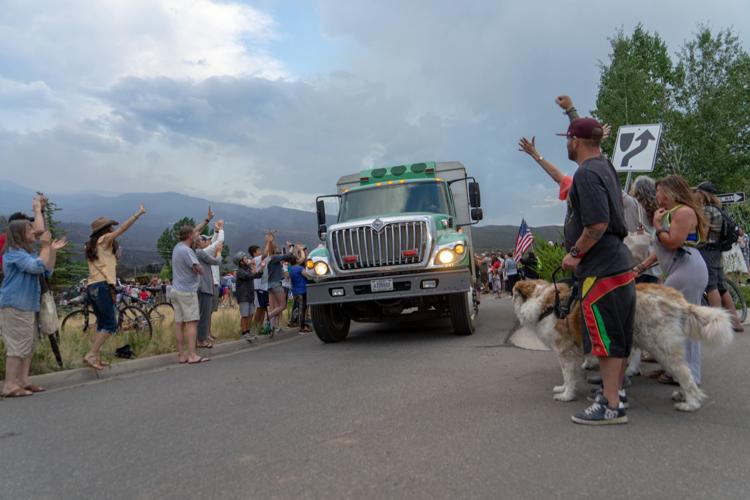 Ron Garfield is on the board of the Starwood Metropolitan District. He said the neighbors funded the new station — No. 65 — knowing that wildfire danger to their own homes and surrounding properties will continue to increase.
"The Lake Christine Fire was taken as proof that our efforts in this regard were most worthwhile," Garfield said. "The new station is intended to provide a much shorter response time not just in Starwood but in the neighboring areas of the fire district as well."
George Newell joined the Aspen Fire Protection District as a volunteer firefighter in 1973. He said one of his first calls was a small brush fire near the airport. The veteran guys gave him a shovel and told him to beat the fire out. He was wearing jeans and T-shirt. In his early days Newell said there were more structure fires than there are now, but a concentration on building codes and enforcement has helped tamp down those calls.
Wildfires, on the other hand, have expanded in multitudes.
"We used to think that a 50,000-acre wildfire was a big wildfire, nowadays we are seeing fires 10 times that size," Newell said.
But the characteristics of a volunteer remain the same, he said.
"You have to have some kind of compassion in your heart. [When the] pager goes off, it's 2 a.m., you are in your nice warm bed and you're going to go out when it's zero degrees outside — it really takes compassion and a willingness to work hard," he said.
Newell has since retired from his volunteer duties, but last summer, shortly after the Lake Christine Fire, he walked up to Balentine with his checkbook open and donated the remaining balance for a new firetruck.
"I've made lifelong friendships there. It's a great opportunity to help out the community, to return something to this community that has been so good to me," Newell said.
Within the last year, gifts from Boogie Weinglass and the Aspen Community Foundation have also aided in modernizing the department's fleet.
Last month, during a potluck style "family night" at the station, eight new recruits joined the team and were asked to stand up and introduce their family members as well. Kim Doyle Wille was there, giving out jams and jellies made from fruit grown within the El Jebel Mobile Home Park. Because of the efforts of the volunteers of the Aspen Fire Protection District, and the extra care Balentine took to water the gardens while on watch at the neighborhood, many of the plants survived and made it to harvest.
"There are a lot of things that the ordinary citizen doesn't think about that firefighers have to commit to," said Doyle Wille. "It's in our bloodstream, you want to help and save your community."
In his 30 years of involvement with the district, Balentine has grown from a self-described long-haired punk to the CEO and fire chief of the district. Each day on the way to his office he walks through the display of 140 years of others who came before him, dedicating their free time to the same mission.
"I look at the walls in the museum, you see the fire chiefs from the 1800s. I feel like I'm just a placeholder, I feel honored to be part of history," Balentine said. "I just don't want to screw it up if I can help it."