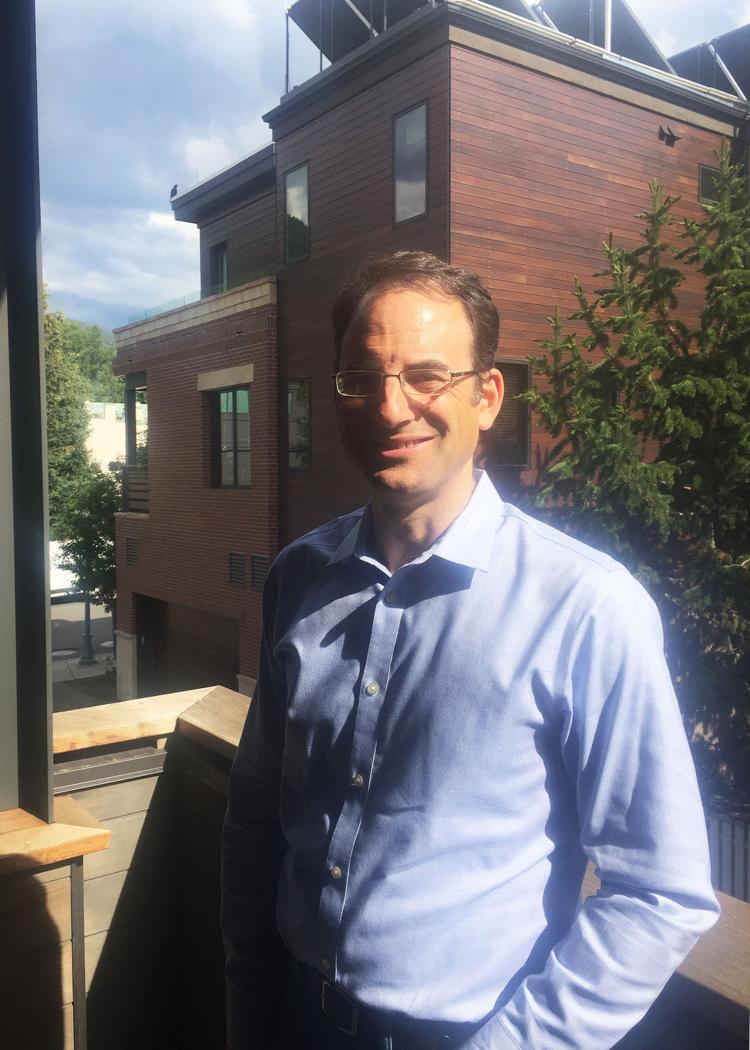 The state of Colorado should join the hundreds of communities and states that are suing drug manufacturers and distributors as a way of fighting back against the national opioid crisis, state attorney general candidate Phil Weiser said in Aspen on Monday.
Weiser, 50, a political newcomer who narrowly defeated civil rights attorney and three-time state Rep. Joe Salazar in the Democratic primary, faces Republican George Brauchler in the Nov. 6 general election. Weiser said he made campaign stops in Glenwood Springs and Carbondale before the late-afternoon visit to Aspen.
"I had a chance [in Glenwood Springs] to visit with a recovering opioid user, who got a chance to not be in jail and to rebuild his life," Weiser said. "That's the model for what we have to do on the opioid epidemic. We've got to hold accountable pharmaceutical companies that have destroyed lives, lied to people, made big money. And we'll get the money from that lawsuit and provide drug treatment, and we'll use that as a force for change away from imprisoning drug users."
Weiser said that while running for attorney general, he has seen the effect of the opioid crisis firsthand. In Alamosa County, 90 percent of jail inmates are opioid users, he said.
In Colorado, at least nine governmental entities — six counties and three cities — have reportedly joined the effort to sue pharmaceutical firms in federal court over opioids. More than a dozen others are said to be considering the move, which is partly rooted in the desire to offset the local taxpayer dollars being spent on public services necessary to combat the problem.
Colorado Attorney General Cynthia Coffman has been reluctant to tackle the issue, Weiser said. Coffman, who faced a crowded primary field in her unsuccessful bid for the GOP nomination for governor, is not seeking re-election to the post she won nearly four years ago.
"I will sue the pharmaceutical companies to drive this change," Weiser said. "My opponent [George Brauchler] won't."
During the primary campaign, political pundits around the state linked Weiser to the establishment wing of the Democratic Party,  while labeling Joe Salazar, a distant cousin to former Interior Secretary Ken Salazar, as the more progressive, left-leaning candidate. 
Weiser discounted the labels during his interview with the Aspen Daily News and said he simply wants to fight for everybody.
"I'm in this for all Coloradans — I'm looking for support from everyone," he said. "The values that I'm fighting for is an office that puts people at the center of its mission and makes their lives better. I don't believe that's even a Republican or Democrat issue. The fact that our [Attorney General's Office] is asleep at the switch on the opioid crisis, and other things, like support for rural broadband, like affordable health care — I don't think that's helping Republicans."
Other publications have noted Weiser's position on a multitude of subjects. He disagrees with Coffman's decision to sue Boulder County over its handling of oil and gas regulation. He wants to see the state's Taxpayer Bill of Rights, also known as TABOR, "reformed" through a statewide vote so that local governments won't be hamstrung by declining revenues. 
He has vowed to uphold and enforce the state's 2013 gun-control law and is in favor of expanding background checks and banning high-capacity magazines. Regarding the possibility of federal intrusion into state regulation of cannabis cultivation and sales, he believes the Obama Administration's Cole Amendment, which sought to leave marijuana-law enforcement to the states, was the correct way to handle the matter. 
Weiser also supports the concept of "sanctuary cities" for immigrants facing deportation. He believes that the Deferred Action for Childhood Arrivals program, commonly known as DACA, should be left alone and that DACA recipients shouldn't be threatened with the potential for removal from the United States.
Weiser, a native of New York, got his start in law in Colorado in the mid-1990s through a clerkship with a 10th Circuit Court of Appeals judge. He also served as a clerk for Supreme Court Justice Ruth Bader Ginsburg, a Clinton nominee.
He also worked in the Obama administration, leading a White House technology initiative, and is the former dean of the University of Colorado Law School.
Weiser said he hopes voter turnout in Pitkin County will be strong in November. He took 58 percent of the vote in Pitkin County in the June party primary, second only to Kiowa County, a Front Range community with less than 1,500 residents. 
He admitted that his name recognition was low leading up to the primary and that it was tough going up against Salazar, whose name is associated with a longtime political family in Colorado — however distant that connection may be. He reportedly spent a lot more money than Salazar, most of it on TV advertising aimed at becoming more familiar with voters.
"That's an understatement," he said of the name identification issues. "The name 'Weiser,' I said, when starting the race, had no name ID, but it was a great name for puns. The name Salazar is a beloved name, and gave Joe a great advantage, and he's been in politics a long time. But in 13 months, we won the state Democratic Assembly, and we won the primary."