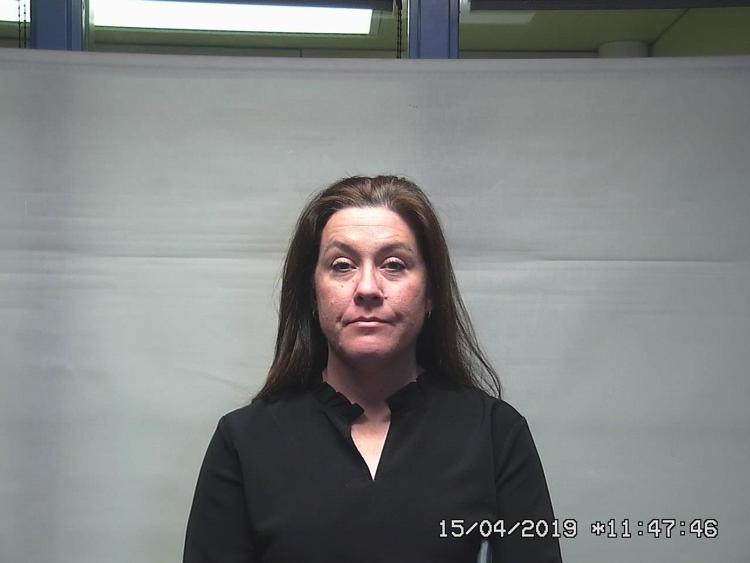 Almost exactly one month after her husband pleaded guilty to felony theft for stealing from Aspen Skiing Co. to supply an illegal eBay business, Kerri Johnson, 48, pleaded guilty in Pitkin County District Court to class 4 felony theft.
Unlike Derek Johnson, 52 — whose guilt of class 3 felony theft could net between four and 12 years in the Department of Corrections — Kerri Johnson does not face a prison sentence, but rather probation with open conditions and possible jail time, in addition to the $250,000 restitution she shares with her husband.
Johnson wiped tears from her eyes while flanked by her attorneys, Denver-based Dru Nielsen and Aspen local Beth Krulewitch, in the courtroom Monday. She did not comment, other than to answer "yes" to Judge Chris Seldin's questions about her being of sound mind and to say "guilty" when asked for her plea. She opted to waive establishing a factual basis for the charge, meaning she did not answer on the record when Seldin asked what she did to make her guilty of theft.
The single count of theft is significantly diminished from the initial charges against her: class 2 felony theft of more than $1 million — which carries a presumptive penalty range between eight and 24 years in prison — and felony burglary, cybercrime and conspiracy. 
Her husband co-founded D&E Ski and Snowboard Shops in 1993 before selling the company to SkiCo in 2001, where he would stay on as the managing director of retail and rental equipment for 17 years. Between 2010 and 2018, he siphoned high-performance skis and snowboards off the company's retired demo rack to a Mill Street storage unit he and his wife rented for about $1,875 a month, according to an Aspen Police affidavit. From there, the couple would sell the stolen equipment on eBay, which Kerri Johnson oversaw, according to police.
During peak winter times, between 4,000 and 4,500 people work for SkiCo. Before he was in law enforcement, Aspen Police detective Adriano Minniti was one of the thousands of locals employed by the resort. The trade knowledge he picked up from his time working in the rental and retail branch of the company served him well when an anonymous report in November last year tipped both SkiCo and police to the Johnsons' operation.
"I went online and researched the eBay account," he wrote in an April arrest affidavit. "I recognized the skis as being rental skis because of a specific binding design which allows for the ski to accommodate multiple boot sizes. All the listings on the account show this style of binding. Also, these bindings are not sold to the general public."
While it was her husband who procured the stock for their illegal eBay business, the affidavit says, Johnson managed shipping and tracking sales of the stolen gear. Through an executed search warrant, police found meticulously kept spreadsheets detailing cost of goods, shipping supplies — which they also billed to SkiCo, to the tune of nearly $42,000 between November 2014 and August 2018 — and more than $101,000 in credit card and almost $300,000 in "other" debt. 
"There were some documents and spreadsheets open on the computer, and Derek attempted to close the documents without saving them," Minniti wrote in the affidavit. "I took control of the computer and photographed the open documents."
Among those documents was a spreadsheet titled "Six Bit Reporting Sales," which depicted a timeline of aggressive business growth (SixBit is an e-commerce software platform). In 2010, the spreadsheet reported about $1,438 in sales. By 2013, that number grew to almost $295,000 with a peak year in 2017, at more than $440,000. All told, "that totals $2,146,180.46 in sales. This does not include what they charged in shipping above the cost of the skis," the affidavit reads.
A desktop, laptop and external hard drives were sent to the Garfield County Sheriff's Office for forensic extraction, from which a document titled "Mark Rubinstein" was discovered. The document was dated Dec. 3, 2018 — the same month SkiCo fired Johnson in the wake of the investigation into the couple's operation — and listed apparent points to make to the local defense attorney.
"In it, Derek, referring to himself as I, explains how the situation unfolded," according to the affidavit. 
That "situation," per the quotes outlined in the affidavit that Johnson wrote for Rubinstein, tells a tale of stress and good intentions gone awry.
"Ran as a way for D&E prior to ASC sale to reduce used inventory," it reads, reflecting statements he has made in court proceedings. 
"Ran with Ski Co knowledge early on 2001 to ???" SkiCo officials have never stated any knowledge of the eBay operation.
"Brought back business, intended to run above board. I ran inventory procurement; Kerri ran sales and shipping.
"Work stress (SBH, Crowns, I can't beat a $15 billion family!)
"Spiraled out of control, goal was to protect family." Johnson told officials that his wife didn't know that the skis and snowboards were coming from SkiCo — but several emails between the two confirm that she knew the shipping materials were being illicitly ordered from the company.
"Kerri was not happy with her work. I was miserable with role at ASC (we were trapped)."
After Derek Johnson entered his guilty plea in November, SkiCo released a statement about the Johnsons' legal situation while sympathizing with the difficulty felt by the family. 
"... Ensuring that Derek Johnson is appropriately held accountable through sentencing is important to us," it reads. "Recognizing that the Johnsons have a family, we hope that the court nonetheless considers the broad human impacts of these crimes, and what an appropriate sentence will say to the community as a whole as it determines Derek Johnson's sentence."
Just as the couple pleaded their cases separately — Derek Johnson was present in the courtroom Monday in support of his wife — the two will also be sentenced separately. Derek Johnson is due back in court Jan. 21 for sentencing; Kerri Johnson's sentencing hearing is scheduled for Feb. 18.
While the length and terms of her probationary sentence must be reasonable for the crime to which she pleaded guilty, no precise terms are outlined in Kerri Johnson's plea agreement. A pre-sentence investigation, or PSI, by the local probation office will offer sentencing recommendations to the judge. Additionally, the $250,000 restitution is "joint and several," meaning that if one party does not pay anything toward restitution, the other owes the full amount.