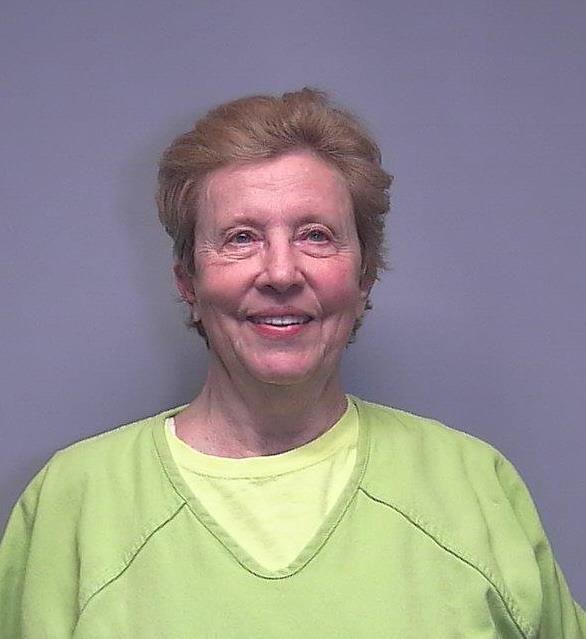 A 78-year-old Washington, D.C. resident was arrested and extradited back to Aspen, where she faces a felony charge of stalking, in addition to several misdemeanor complaints of violating probationary terms involving protection orders.
Jan Hamilton, 78, is no stranger to the Pitkin County court system. During her advisement Monday afternoon, she smiled and greeted those she recognized warmly while introducing herself to the prosecutor new to her since being sentenced to jail in 2015.
The first matter addressed was bond, and public defender Ashley Andrews argued — ultimately successfully — that continued custody would be unduly burdensome for Hamilton, who among other health issues is managing two separate cancer diagnoses from her current home in Washington, D.C.
"She has advised me she has a nurse with her in D.C. that has been approved by social security to come to her house for up to 15 hours a day and can get her transportation to her appointments and making sure she's getting the [chemotherapy] treatment she needs," Andrews, who also appeared by telephone, said in court. "She's supposed to get 10 treatments in the next three months."
While Deputy District Attorney Don Nottingham didn't immediately disagree that perhaps continued jail time wouldn't immediately best serve the situation, as he told Seldin that the people "don't have a problem with her being given permission to travel," he was very clear about the need to ensure Hamilton's future compliance with court orders. Without such arrangements, Nottingham requested that the court set bond for $100,000 cash for the felony charge alone.
"Should Dr. Hamilton bond, I think it's important that the court craft conditions and we have a very specific understanding of where Dr. Hamilton is going to be," Nottingham said, explicitly pointing out the defendant's long history of continuing to make contact with protected parties despite numerous orders forbidding such contact.
In fact, there are so many protection orders in Hamilton's cases that even Andrews expressed difficulty making heads or tails of the current status.
"I found it to be confusing because there are criminal protection orders and civil protection orders. The jail has compiled a list … that I can tell you is incomplete," she said. "So I think because of the amount of protection orders that are in place, it is very confusing — not only to Ms. Hamilton but to me, as her counsel. It would be very helpful if we could make a complete list of protected parties, both criminally and civilly."
Typically, Judge Erin Fernandez-Ely oversees misdemeanor cases in Pitkin County, but — as Hamilton herself acknowledged before court proceedings Monday — Fernandez-Ely recused herself from the case at some point first presiding over Hamilton's cases in 2002. Instead, District Judge Chris Seldin appeared by telephone, noting that only the felony stalking case will continue in his courtroom.
Monday's court proceedings involved new violations of complaints dating back to 2008, when Aspen Police detective Jeff Fain, then an officer, responded to a call in which an alleged victim said Hamilton "had forced her way into her house and stayed for seven hours," according to an arrest affidavit. A day later, the victim received an email with a subject of "Moving in today," allegedly from Hamilton.
"Hamilton arrived soon after the email was sent and started ringing [the victim's] doorbell trying to get in," Fain wrote. "Hamilton left several boxes behind on the porch."
That incident netted Hamilton first-degree trespass, attempted first-degree trespass and second-degree trespass charges, for which she was arrested. Three days later, the alleged victim filed a civil restraining order against Hamilton.
"This restraining order was made permanent on 01/30/2008 and is still valid," the affidavit states.
But, according to the allegations outlined in the affidavit, Hamilton continued contact for the next more-than a decade, both directly via voicemails and emails and indirectly via contact with the alleged victim's attorney and through myriad litigation against both the alleged victim and her family.
In February 2010, for instance, "Hamilton filed a civil defamation suit against [alleged victim and brother]. The suit was litigated until 02/25/2014," according to the affidavit. "The court ruled in this case that attorney's fees would be paid by Hamilton and there is still an outstanding balance."
During the time that suit was ongoing, Hamilton also filed several motions to have the protection order removed, including one in July 2010 claiming that "she was very ill and needed a blood transfusion," the affidavit states. "Hamilton claimed that the only person that could donate blood would be [alleged victim]."
Almost a year later, in January 2011, "Hamilton filed yet another lawsuit against [alleged victim's brother seeking damages of $12,000 for sexual discrimination and hate crimes. This case was litigated until 05/13/2016," per the affidavit, this time focusing on Hamilton's sexual orientation.
And in 2014, then Pitkin County Jail administrator Don Bird — who would also become the subject of litigation by Hamilton — reached out to Fain, not in his capacity at the jail, but as a member of the Aspen Community United Methodist Church, where Hamilton was also a member.
"Hamilton had approached the pastor when he started [in the role] about arranging a wedding between herself and [alleged victim]," Fain wrote. "Hamilton had spoken to the pastor several times about the marriage."
But after her 2015 sentencing, Hamilton ceased contact with the alleged victim, as was acknowledged in court Monday, until March of 2019, when a flurry of communications allegedly occurred.
When Seldin issued a personal recognizance bond, which does not require cash, for Hamilton, he cited that years-long compliance with court orders on which we hinged his optimism — which came with an unambiguous warning.
"At present, I am going to give you the chance to demonstrate that kind of compliance. I have some hope in this regard because we did have several years of what I understand to be compliance with the court's orders. So, the court believes that you can do it, but I want you to understand that you have every motivation I can possibly provide you to remain in compliance," he said. "Otherwise, the arguments about your health will have no meaning to me because I will have given you the chance to place your health first and foremost in your list of priorities."
As part of the conditions for bond, Hamilton must return to Washington, D.C., within seven days — "ideally sooner," Seldin said — in order to attend her treatments. She will appear at future court dates via telephone until the parties are ready to move forward with "something substantive."
In some ways, having Hamilton leave town best serves the alleged victim, too, as long as no further contact ensues, Nottingham noted.
"It was frankly a difficult decision [to bring Hamilton back to Aspen]," he said. "[There exists] a lot of trauma, a lot of emotional distress to the many, many alleged victims in these cases."
According to Fain's report, the alleged victim described "Hamilton's obsession with her and her belief that they had/were in a relationship and constant contact for over a decade" as "the 'single most devastating moment of my life.'" Furthermore, she felt "incredibly trepidatious at the possibility of Hamilton returning to the area on the warrants and being released on some sort of bond."