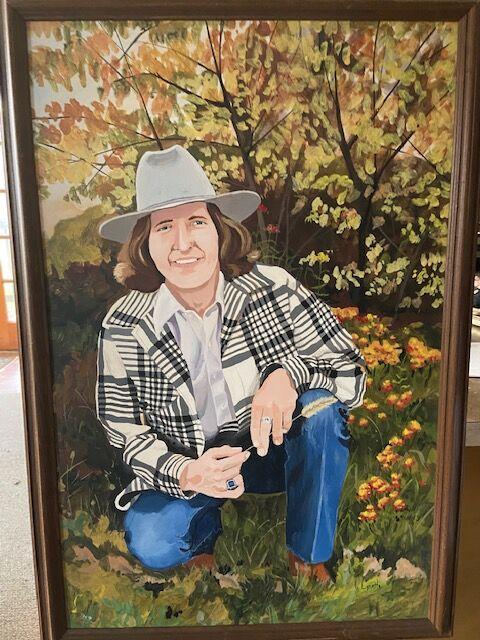 Kirk Randall "Zip" Trotter  of Claremore, OK, passed away on November 11, 2021, at the age of 69, after a long battle with heart disease. He was born in Tulsa on January 14, 1952  to W.R. and Erma Trotter.  Kirk was, until the mid 70's,   "Livin' on Tulsa Time".  He then moved to Basalt, CO   where he worked for decades as a lineman at  McDavid Bros. Aviation in Aspen, CO.  Kirk joined his sister  to live in Claremore, Ok in 2008.
Always,  Kirk's main passion was music! Kirk, aka "Zip" ( like many in his family tree) was an accomplished musician!  Kirk's father was good friends with Bob Wills, famed Western swing musician and bandleader of the "Texas Playboys"!   Kirk started guitar lessons in his teens with another renowned Texas Playboy rhythm guitarist Eldon Shamblin, becoming a talented lead guitarist. He, at 16, "The Hereafter" played their first paying gig with a surprise! The surprise….  his first  gig turned out to be in a gay bar! Wisely, fearing his parents would put an end to his music future, he did not tell his folks the surprise!
Kirk often said, "I was almost someone famous"! "Zip" was never famous but was on stage for decades! While living in the Aspen, Colorado area he played many clubs, concerts and festivals. Zip's last band was called "Back Porch with Tepper & Trotter" (a duo of harmonica and acoustic guitar). The duo regularly played Happy Hour at " Two Rivers Cafe" (everybody's hangout) in Basalt, Colorado.
Kirk is survived by his sister, Lynette Trotter-Medders and brother-in-law, Gaylen Medders and three grand nieces Alexis, Zylyn and Jelleisha.
No church services are planned, per Kirk's wishes. Cremation was at Floral Haven Funeral in Tulsa, Ok where you may read his full obit. In lieu of flowers, make donations in Kirk's name at either of these animal rescues.

Wild Heart Ranch,
P O Box 170 Foyil, OK 74301  

StreetCats, Inc. 
6520 E. 60th St., Tulsa, OK 74145