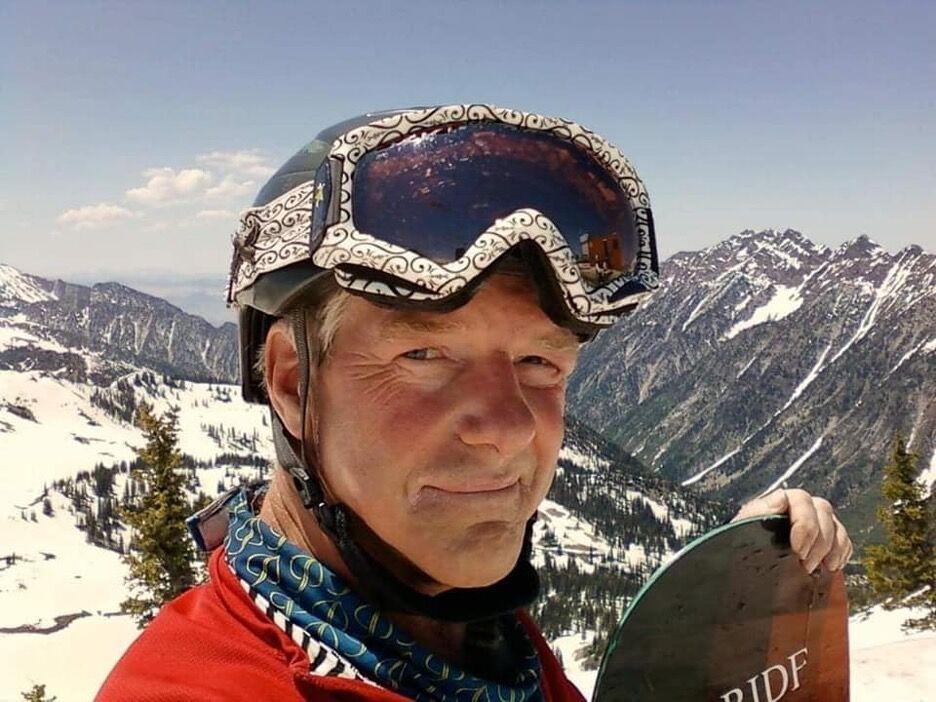 On the fine summer day of Monday July 11, 1949 a baby boy was set forth on earth in Hamburg, NY: Millard Robert "Boardin' Bob" Kreinheder III, born to Millard Robert "Mike" Kreinheder Jr. WWII Army Air Force veteran, and Lorene "Lorry" Kreinheder.  The child became a boy, a man, a loving husband,  father,  grandfather, and an expert snowboarder.   On the fine winter day of January 12, 2021 the Corona Virus pandemic set a tragic record, with 4,406 U.S. deaths.  Bob was one of them.  He was 71.
Bob had few worries and a lot of fun. He grew up in Hamburg, NY riding horses and skiing with the family at Kissing Bridge in Glenwood, New York.   He attended college at Superior Wi, where one day, his pet monkey went berserk, destroying the kitchen.  At college he met and married Rosemary "Rosee" A. Hegeman, of Milwaukee, Wisconsin.  Rosee's huge vivacious smile paired well with Bob's pensive deportment. She was the top ad Sales Executive for Buffalo's TV Channel 2.  The union of Bob and Rosee produced two viable progeny:  Bonnie "Bon Bon" Kordasiewicz, of Williamsville, New York, a Sr Program Manager at Ingram Micro, and, Major Paul R. "Ryan" Kreinheder, U.S. Army retired Helicopter Pilot, of Basalt, Colorado, who is studying to be an Aerospace Engineer.   Bonnie's son Brandyn "Andy" Duncan, made Bob a proud grandfather, and through Bonnie's marriage Morgan and Sydney Kordasiewicz also loved Bob as "Grandpa" and Aliana, born in 2020 made Bob a Great Grandfather.  
Sadly, after 30 years of marriage, Rosee passed away on November 29, 2000.
Bob also had a younger brother, Rodney "Mr. Big" Reed Kreinheder, a retired property manager in Williamsville, New York, and a younger sister, "Chaos" Kari Swainston, a decorated hunter\jumper horse trainer, and stable owner in Layton, Utah.
One of Bob's first jobs was at a local carnival as the engineer driving a kiddie train.  Everyone in the family worked at Dad's furniture store, Country Manor Galleries, Drexel Heritage in Amherst, NY.  Bob computerized much of the store's operation, learning to program a primitive PC of the early 1980's.  His real passion was within the winter sports of skiing and snowboarding, and Bob became an instructor at Holiday Valley Ski Area in Ellicottville, NY.    Skiers snubbed and ridiculed snowboards when they first appeared in the 1980's.  Not curious Bob.  He figured out the technique, and founded and headed up Holiday Valley's snowboard school.   In 2006 Boardin' Bob started a new life in the mountains of Aspen/Snowmass, Colorado as one of their best snowboard instructors.  Over 32 years Boardin' Bob taught thousands of snowboarders the art of carving the perfect turn.
We will remember Bob for his beautiful perfectly carved arcing lines in the snow, loving life in the mountains, his fondness for the fine southern sippin' whiskey, Wild Turkey, and his unflappable independence.  As he lay dying in the hospital, it gently snowed.