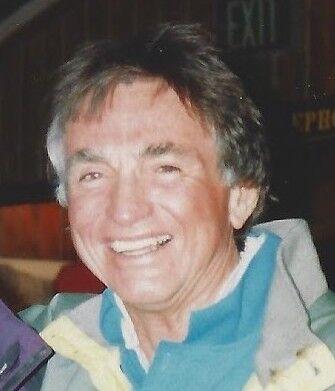 John Berthold "Pep" Fraser, a longtime ad man and lifelong adventurer who helped launch a new kind of skis, died January 31 in Denver, Colorado. He was 88.
To his family and friends, John was an irreverent, fiercely loyal, always curious, sometimes irascible, generous, deep-thinking kind of guy. A man of contrasts — kind but brusk, reserved but direct. He was someone who didn't take life too seriously but was deeply serious, who loved words but used them sparingly, who disdained tradition but kept his Christmas tree up until spring. And, as one admiring friend put it, he lived "a big life."
Born December 19, 1934, in Billings, Montana, John was the oldest of five siblings, the son of Marvin and Mary Louise Fraser, a car salesman and his wife. Growing up, he was called Pepper, "Pep" for short, but no one seems to know why. He shared a tiny bedroom with his three brothers, camped often in Yellowstone National Park, and played a lot of baseball. To get around, he would "hook" rides from passing cars and buses, grabbing onto the back bumper and sliding down the icy streets to his destination. And by age 13, he managed to get a special driver's license that allowed him to tool around town in his dad's black Oldsmobile with the horn playing the 1905 song, "In my Merry Oldsmobile."
But by the end of high school, John was ready for something different. He headed off to the University of Montana in Missoula, but then interrupted his schooling to join the Marines (Private First Class, Company B, First Recon, stationed at Camp Pendleton in California). After his release from active duty, he returned to college — and more antics with his Phi Delta Theta "brothers" — and graduated with a bachelor's degree in business administration in 1962.
That fall, the iconic American poet Robert Frost, related to John by marriage, told him: "You've got to be bold, with caution. Caution most of the time. But if you think it's necessary, stake everything without caution. The reward for daring is the chance to take another dare." And John seemed to take that advice to heart. He moved to New York City and landed a job in the mailroom at the McCann-Erickson advertising firm. On nights and weekends, he worked as a page on NBC's Tonight Show, hosted by Johnny Carson, where, as the story goes, the famed Eartha Kitt once sat on his lap and sang "Santa Baby."
It didn't take long for John to move up the ranks. He went from the mailroom to a high-powered position as vice president of McCann-Erickson Europe in less than a decade. During his time at McCann, he moved from the New York offices to Atlanta to Chicago, then spent nearly 10 years working in Tokyo, Seoul, Amsterdam and London, managing accounts like Johnson & Johnson, Goodyear, Opel (General Motors) and Coca-Cola. While in Tokyo, John's marketing team helped introduce Coke to Japan, increasing client advertising expenditures by 600 percent in three years, and turning Japan into Coca-Cola's biggest market outside the U.S.
By the early 1970s, though, John wanted a change. His hard work had paid off financially, but he was beginning to question his priorities. And when a friend offered him a plane ticket to Johannesburg (in exchange for some marketing help), he decided to take a break from corporate advertising. He sent a teletype to his brother Mac — it was their chance to do the traveling they'd talked about. And soon, they were on their way to Africa and South America. They trekked into the wilds to see gorillas, hung out with scouts and tribesmen, climbed an active volcano, and went down the Amazon, eventually ending up in Aspen, Colorado, nearly a year later, in time for ski season. And when the snow melted, they set out again, this time heading for Alaska to work on the new, highly publicized pipeline, picking up their brother Michael in San Francisco along the way. But at a ferry crossing in Canada, stuck in a long line of better-equipped, truck-driving job seekers, they realized it might not be such a good idea after all. And John returned to Aspen instead for one last ski season. As it turned out, he would stay for another 35 years.
John met his next business partner on a chairlift. The conversation led to a job at Comfort Products, a fledgling product design and development company across the street from the ski slopes. It was a small company, just three partners, but it was known for inventing the first ski boot warmers. With John onboard, the company expanded to other innovations, eventually collecting 16 patents. One project, for example, led to the development of "ThermaFlex K," a heat-conducting material first used in space suits worn by Apollo astronauts and, later, in running shoes and gloves. In his many years with Comfort Products, John helped develop and market Raichle "Flexon" ski boots, Easy Spirit walking shoes, Hot-Finger Gloves, and Rollerblade Inline Skates, among others.
But his favorite venture may have been Volant skis. In the late 1980s, he helped former Olympic skier Hank Kashiwa and Kashiwa's brother Bucky launch the Volant Ski Company and the ski industry's first stainless steel, capped skis, as well as some of the earliest "shaped" skis to hit the market, including the "Chubb" fat ski for deep powder.
For much of his life, John was a confirmed bachelor. Until, at age 44, he met Kari Foster, an interior designer from Denver. Neither of them could have guessed their love would last more than four decades, the rest of John's life. They river-rafted, skied, and walked 100 miles across Africa together. Kari's daughter Kim came to see John as her second father. Kari's grandchildren, Kari and Foster, knew him as "Ojii," their beloved, book-reading, story-telling grandpa. And to John, in turn, they were his "Sweet Pea" and "Number One Guy."
Friends and family meant everything to John. His sister Wendy, 17 years his junior, remembers him showing up to help her prepare for college, then flying her to Europe to visit on summer breaks, and, once, booking her and her mother into Madrid's finest hotel — the many things he did to share "his expanding and bigger world" with her. Year after year, John also showed up at his college fraternity reunions (planning the 50th one himself) to be with his Phi Delt "family." And there were raucous trips to Santa Cruz with Kari's family, sailing trips to the BVIs, river-rafting with close friends in the Grand Canyon, long nights at Woody Creek Tavern, and the time John dressed up in an elf costume — green leotards, tunic, rouged cheeks, and a jaunty hat — to make a surprise appearance at a Christmas Eve dinner with Kari and Kim. Everyone seems to have a story about one of John's late-night escapades or his tongue-in-cheek sense of humor. Once, when he couldn't attend a good friend's wedding, he left a voicemail promising "to make it to the next one." And when a politically opinionated friend would get phone messages at work from Idi Amin and General Dozier, among other high-profile figures of the day, she always knew it was John calling.
By all accounts, John was someone who lived life on his own terms. He started out in a smallish Montana town, then went on to travel the world and make — and keep — close friends from all walks of life, from ski instructors to advertising executives to bartenders and river-rafting guides. And in the end, he seemed to share his celebrated relative's approach to life: "Two roads diverged in a wood, and I—" Robert Frost once famously wrote, "I took the one less traveled by. / And that has made all the difference."
John is survived by his longtime partner Kari Foster; Kari's daughter Kim and husband Paul Hresko, and their children Foster and Kari; his brother R. MacMillan (Mac) Fraser and wife Sandi; his brother Michael Fraser and partner Karen Laughlin, and their son Ethan; his sister Wendelanne (Wendy) Augunas and her children Savannah, Jacob and Kevin; his niece Dawn Fraser Hampton and husband Barry, and their children Austin, Hunter and Taylor; and the rest of the Fraser clan; as well as Kari's large extended family that welcomed John into the fold more than 40 years ago. John was preceded in death by his brother Jerry. Plans for a celebration of John's life are in the works.