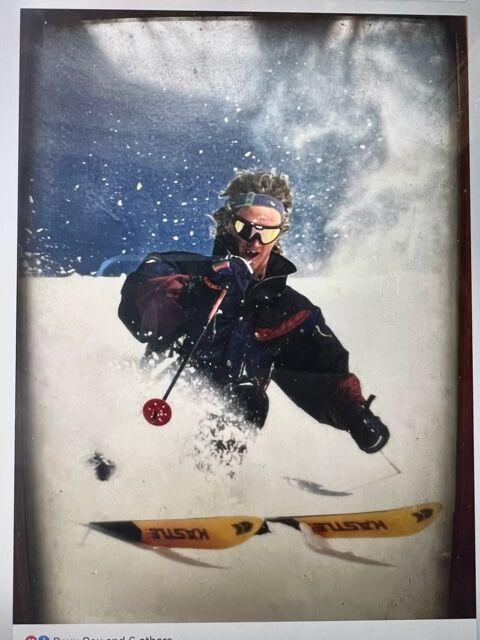 Aspen – Michael Kevin Leese, born February 16, 1965, died on March 26, 2023  outside of Basalt Colorado. A forty-year resident of the Aspen Colorado area, he spent his younger years in Grand Rapids and Grand Haven Michigan. He died surrounded by the mountains he dedicated his life too.
Michael was a proud ski bum starting at the age of 18 and became one of Aspen's great skiers.  He loved to go fast, and he knew how to do it.  He was a highly skilled  High Altitude Organic horticulturist and would always be happy to help a friend with advice on how to grow, anything. He was a ruthless laborer, took impeccable care of his belongs, and was fiercely independent. More than anything he loved his days with his innumerable friends on the mountain.  When spring came, he was an avid hiker – NOT camper.  He has a rich history in the Aspen Valley and has impacted many people's lives. He will be missed by everyone whose life he touched.
Michael also loved rock n roll music and live, LOUD, concerts, especially at Red Rocks. He would travel all over the country in the summer months for shows, always meeting up with friends or family in each town to take them to what was likely going to be a mind-blowing experience.
Michael is survived by his mother Judy (Jack Raeside) Leese, his father, Gerald Leese, his brother David (Rhonda) Leese, his nieces Annabella Leese and Tensey Gavalis, and his nephew Owen Leese.  He is also survived by a Colorado family of friends that spent a lot more time with him than anyone on earth, as well as countless aunts, uncles, cousins, and others who loved him and are beyond saddened by his passing.
In lieu of flowers please buy someone a shot of tequila, or a good beer – with a proper head, or go roll a perfect joint and smoke it with anyone who's around. Throw a joint on stage to your favorite artist or plant something beautiful, and, when you hit your skis next time, rip one for him – and please, cloud up the gondola, preferably just as it reaches the top of the mountain!
A Celebration of Mike's Life will be held on June 11 beginning at noon at the top of Aspen Mountain and then at the Eagles Club. Please wear your Vintage Rock n Roll Concert T-shirt or Cool Ski Gear!