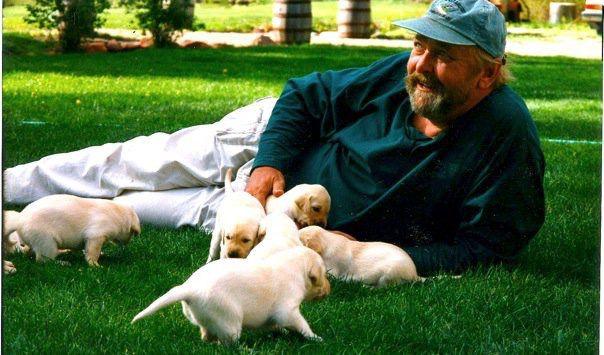 Iconic fly fisherman, flytyer, craftsman, and friend …..
"The Steward of the Fryingpan", Roy Palm, has passed away after battling cancer since last Spring.
Born in Pennsylvania, and raised in a large extended family, Roy attended Ohio State University and served in the U.S. Army in Germany during the Viet-Nam War. Shortly after being discharged, Roy came to Aspen.
Roy was hired to be the bouncer at the Pub. Big, tall, and imposing, Roy was the perfect foil for the alcohol and drug fueled volatility of the Pub. Roy soon started a contracting business providing finish carpentry services to the Aspen community. Roy then acquired his slice of heaven on the Frying Pan…. sixteen acres with exclusive access to a half a mile of the river.
Roy was introduced to flyfishing at a young age by his father, who was a fine cabinet maker. This attention to form, fit, and finish was passed on to Roy who exhibited the same attention to detail in the meticulous flies that he tied, the display cases and cabinetry that he built for the flyfishing store he founded, and finally, in the impeccably elegant bamboo flyrods that Roy began to craft in the last eight or ten years of his life.
Stubborn and independent as an old bear, Roy loved the solitude and beauty of his home on the Frying Pan. On most summer evenings you could find Roy sitting out in his patio, enjoying "the battle of Britain" as numerous rufous hummingbirds dived and strafed each other in a dazzling conflict over the many hummingbird feeders Roy had hung from the eaves of his cabin.
Roy loved his family and friends, and his constant companions…. his beloved bird dogs. He mentored a legion of children, young people, and clients, as an Outfitter/ Guide who enjoyed passing on the skills and ethics central to his lifelong passion for fly-fishing. He loved the arc of a well cast line, rising fish, liquor bottles with handles on them, good stories, dogs working, birds flushing, and ducks coming in over the decoys…
We will miss your presence, Uncle Roy.
Roy Palm is survived by: his sister, Janet Graham, her husband Rich, their son, Jeff Graham, and a battalion of grandchildren, and great grandchildren.