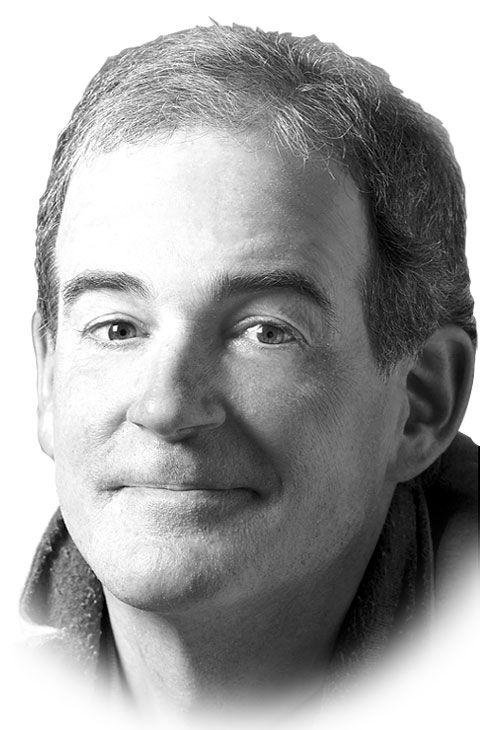 Two images appeared recently that will remind us of the pandemic era. One is of an older man, the other of an ancient thing.
Tony Blair, British prime minister from 1997 to 2007, hasn't been seen nor heard from much lately. So his long, not-quite-flowing gray hair attracted notice in a recent TV interview. You needed the caption to confirm who it was. Blair was a noted progressive who matched Bill Clinton in age and outlook. Hair salons In the U.K. reopened April 12, but Blair didn't appear to have patronized any. Instead, he reminded us of what a lot of us did since the virus shut down much of the U.S. in March of last year. He just let it grow.
Another aging icon of the era was built 10 years after Blair was born: the Brent Spence Bridge, which connects Ohio and Kentucky over the Ohio River. It's not a tourist attraction. If you used it today, it's because you had to. It was designed for half the traffic that now crosses it, and has no shoulders, so the slightest fender-bender can snarl it up.
The Brent Spence hosts the second-worst interstate junction in the land, behind the George Washington Bridge in New York City. It should have been rebuilt or replaced around the time Blair left as prime minister. Many nearby residents won't even use it due to interstate truck traffic. It stands between Cincinnati in Ohio and its airport, in Kentucky. It represents the stand-off between Democratic president Joe Biden and his infrastructure plan and Kentucky Republican Sen. Mitch McConnell, who's sworn off spending proposed by any Democrat. It was McConnell who pledged, shortly after Barack Obama took office, that his top priority was unseating the new president.
Even Donald Trump said he wouldn't mind seeing the bridge go.
Not that it will. One plan, at $2.2 billion, involves building a second, wider bridge next to the existing one.
Republicans frequently complain about spending too much money, except when they're in power, as they were when they pushed through a big corporate tax cut in 2017. According to the New York Times, one of its authors was Rob Portman, retiring Republican senator from Ohio, who crosses the aging bridge across the Ohio to fly back and forth to Washington.
In recent decades, some have altered their views on big government spending. Some vowed that deficit spending would lead to inflation and ruination. But many economists note that the those beliefs haven't held up over recent recessions. Tax cuts, many now believe, don't work for the rich because many stash their savings away rather than spending them. We appear to be in the middle of another rewriting of economics textbooks. It could change the way people think of what kinds of inflation crop up.
The Biden jobs plan may depend more on which party proposes it than it will on the benefits or dangers it actually poses. Cincinnati's aging bridge is not yet listed as in grave danger of dropping into the drink. But of far smaller, more obscure bridges we don't even notice are In that category. The bridge may be overgrown and overaged, but that won't stop you from taking the plunge should it bust.
Congressional politics is forcing both parties to think that they must move now. That makes it difficult to propose split and sequenced spending proposals. Political wisdom holds that the midterm elections next year may change the balance of power in Congress because the party in power usually loses seats in a president's first term.
At one time we believed that as time passes, younger politicians would prove more flexible and progressive than the Mitch McConnells of the world. But Joe Biden, the oldest president ever elected, is turning that thought on its head as he and his party try to cut through the Republican blockage in Congress.
Tony Blair, one-time British prime minister, was in his 40s when elected, as Bill Clinton was. He hasn't said much about his current hair style, which reminds us of aging male academics and rock stars. He survived longer than most in British politics, serving as prime minister for a decade (elections have no fixed term in the U.K. but an election must be called no fewer than once every five years).
One unique memory of Blair came in 1997, when he realized he was the only person in the world who could quietly convince the queen to return to London to face her subjects in the wake of Princess Diana's death in Paris. The prime minister and queen traditionally get together once a week, and the queen came to trust Blair though he is younger than Prince Charles.
The next time you see an image of Blair, the Cincinnati bridge, Joe Biden or Mitch McConnell, you may flash to hair styles or the spending habits of politicians and their parties.
Or you may just flip the page or change the channel.
The writer (dukeofdanforth@gmail.com) is a founder of the Aspen Daily News and his column appears here Sundays.