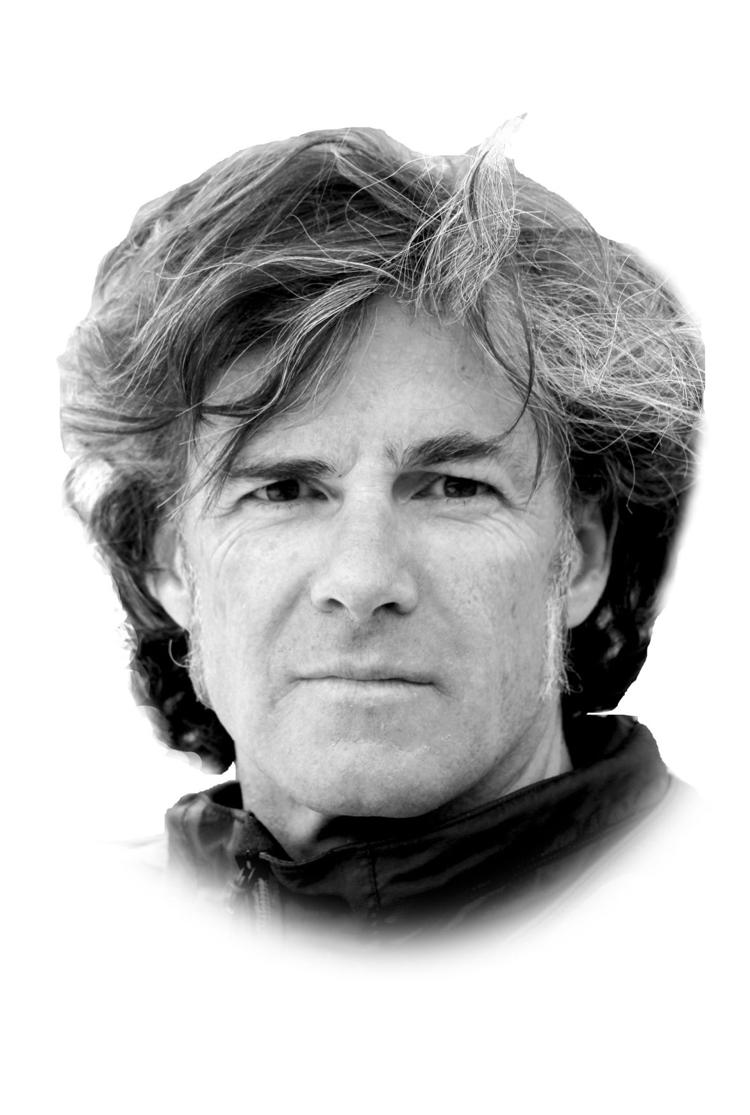 What's more dangerous: Hiking up Highlands and skiing sparsely covered, known-to-be treacherous terrain, or going to a deserted local restaurant and ordering the "seafood special?" Either way, you're flirting with disaster. At this stage in my life, I'm more inclined to do a Cyclebar class than get takeout, or even stoop as low as wallowing in heaping piles of lowbrow mail-order cuisine while gracefully farting into my couch.
Some 20 years or so ago, I was that guy who eagerly climbed up the hill at first snow before the lifts opened, skiing bouncy virgin powder on the lower-angle blue runs. Often my eyes will scan the lesser reaches of Ajax looking to catch a glimpse of the anonymous Lone Ranger who consistently leaves the perfectly spaced first tracks of the year on upper Slalom Hill. The feeling you get from catching a fleeting glimpse of that stoic, solitary skier in action is what one would imagine a devoted birder experiences. Then you're walking through town and you see a guy wearing a turkey costume with his skis shouldered, hiking toward Ajax.
For those of us with two infallible religions — skiing and bike riding — this is the time of year where we willingly swap-out our saddle sores for blisters and blackened toenails as we transition from the rock-hard seat of a bike to the vice-grip confines of ski boots. I've gotten to the point where I buy ski boots with a little more room, a little more flex. I've traded in-boot orthotics for a trusty Dr. Scholl's foam insole bought at City Market. Gone are the days where your big toe repeatedly bashes the inside of your ski boot and your shin looks and feels like a bruised peach. I haven't gone downhill skiing yet, but I did cross-country ski in my backyard, if that counts.
When it comes to getting in ski-shape, there are two convincing schools of thought to get your Aspen State Teachers College diploma from. The over-zealous, genetically gifted zero-body-fat fitness freak has already skinned up multiple times. They had you beat before you even got the snow tires on. Plus they already have 10 days at A-Basin. The seasoned veteran takes a more measured, novel approach to the lifelong death-sentence we call being a ski bum; they gradually "ski themselves into shape" over the length of a season. Take your pick. Results may vary. As long as I can button my ski pants and not have them pop open when I squat into an early season tuck through Spar Gulch.
There's a part of me that thinks if Aspen Mountain had a snowmaking system to the top, we'd all be skiing right now. But, in true trademark Aspen laissez faire fashion, we can't necessarily be bothered by opening early.
Maybe that's one of the things I like about Aspen but don't automatically recognize when it's happening: our indifference to rush into anything, knowing that we're better suited to the long game. The official SkiCo line is we'll know if we will open early in maybe a week, maybe 10 days, it could be two weeks. I like it! Aspen Mountain is a snow-depth anomaly, an outlier — it skis surprisingly well with the crepe-paper thin coverage.
This October was a tale of two seasons. The mountains say winter, but the valley floor with leaves still on trees screams fall. Part of me thinks that it's still early. There are still leaves to be raked. I'm betting on a big melt-off in town before Thanksgiving. Hey, I'm not trying to curse anything. Besides if I wielded that power, the Patriots wouldn't be undefeated, Joe Walsh would be POTUS and I'd be living on Red Mountain. In the meantime I'm trying to adjust mentally to the heinous "SCHUK-SCHUK-SCHUK" sound of the ice scraper on your windshield.
The real reason for me not going skiing already is that I'm afraid of getting hurt before the lifts open. It's gotten to that point. Not to mention I'm hardly looking forward to the first skin-up of the year, criss-crossing through an uphill maze of mountain operation obstacles, snowmobiles and snowmaking hoses. The silver lining for me? The ensuing silver-dollar-sized blisters on both heels. Ah, the joys of winter. Then again, A-Basin is open.