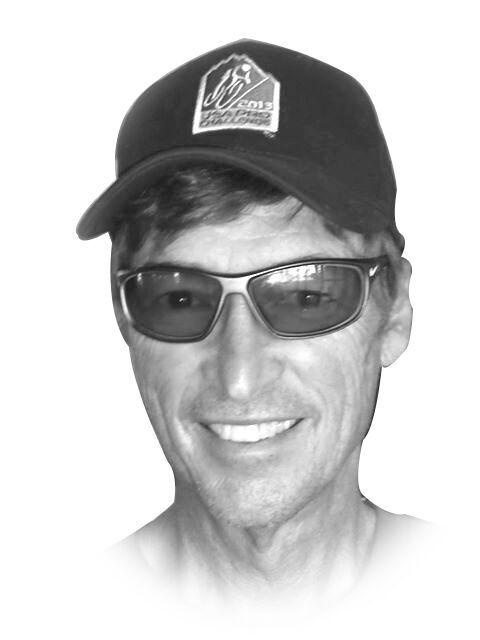 What do we really care about next Tuesday? It's my birthday and the 50th anniversary of Hunter Thompson's campaign for sheriff. But never mind me, there's something important going on for the rest of you people.
In so many ways, American democracy is really just another made-for-TV spectacle where winning is everything and nothing else matters. The subtle arguments that Thomas Jefferson hoped we would spend one day a week debating with our neighboring yeomen landowners have been reduced to the blissful simplicity of Red vs. Blue, us people against you people, Team Red vs. Team Blue, tweet and retweet. We love our team the way we love or hate the Broncos, the Cubs or the Choke-land Raiders because they are our team.
I am a yard sign, you are a yard sign, tweet, tweet, tweet.
Geeks like me write about taxes, child separation at the border, tax policy, housing. The readers will put up with only so much of that at a time when we have to wonder whether we are reliving 1938 Germany or 1968 Chicago, headed for a dark ending. The discussion has been narrowed, the tweet and the mean meme have displaced all nuance, the only questions that remain:
Will the Red Mirage be overwhelmed by the Blue Wave? Will the Orange One be able to get the result before the Supreme Court in hopes of throwing out mail ballots where necessary? Will next year be 1938 Germany or 1968 Chicago, or could we really move forward with health care, climate change and income inequality?
Which is to say, who will win?
Let's start at the top with a local race that speaks to who will win big next Tuesday: it looks like Democrats Beatriz Soto and Leslie Robinson are going to pull off an upset and crack the Republican hegemony in Garfield County, where the commissioners have been spending more than $1 million annually to support oil and gas lobbying. So far, the Democrats are quite simply outperforming the Republicans in ballot returns, with almost 500 more Ds having voted as of Sunday morning in a county where Team Red has a substantial registration edge. And the unaffiliated vote is coming, thus far, from Carbondale and Glenwood, where unaffiliated voters largely side with Democrats.
That is a big deal and consistent with what is going on all over the country and in the state as a whole. The women are working everywhere from Parachute to Carbondale.
The two women may even awaken the sleeping giant, about 4,000 Latino voters. So, were gambling allowed, I would take the two women and give three points. That's not a field goal, Bronco fans, that about 600 votes.
The Garfield County race raises the big remaining electoral question: Will Team Red be rescued late in the fourth quarter by a surge of in-person voters, or will Democrats continue to over perform?
Which brings us to the craziest and most difficult call I have to make, the race between Lauren Boebert, she of the dry T-shirt contest fame at city hall, a Republican, and Diane Mitsch Bush, the educated policy wonk, a Democrat. Our district comprises 29 and one-half, mostly Western Slope counties, ranging from desert to snow country and QAnon strongholds to the highest per capita educational achievement in the state, or to simplify Deep Red to Dark Blue.
Diane is well-educated, articulate and experienced with a solid grasp on the issues. The question is, can she overcome those qualities and defeat an admitted tax avoider, a multiple arrested scofflaw who brags about her arrests: "I even got a pretty mug shot out of it." Really, so cute that being booked into jail again is about vanity.
She has expressed the hope that the QAnon conspiracy theory is true. QAnon posits that Democrats, celebrities and the pope are harvesting children for sex slavery and blood drinking. Her latest: Tom Hanks became a Greek citizen because that country classifies pedophilia as a disability.
Diane gets my vote and is a slight, very slight favorite, call it a point and a quarter.
Here in our county, incumbent Steve Child faces a serious challenge from Chris Council. Child isn't running a campaign and isn't spending money, which is either brilliant or crazy, not QAnon-crazy, but unusual in a day and age where politics is as inescapable as the COVID virus and the smoke of California forest fires.
Child is an actual rancher at a time when ranching is not emblematic of the county. He serves to remind us that the land is our roots. He is the low-key person of principle that we always say we want in office. If Joe Biden can campaign and win from a basement, I think Child can and should win from a ranch. But not by much, call it 150 votes.
Jeffrey Evans, the single-issue, four-lane entrance to Aspen candidate, has hitched his caboose to an issue that no longer dominates our politics. He isn't hip to the housing problem, COVID solutions and other this century concerns. Francie Jacober, a teacher and newcomer is the Democrat and champions the environment. That can and should be enough to win.
The U.S. Senate will change hands, and there will be 52 Democrats including GOP losses in Colorado, Maine, Arizona, Iowa, South Carolina and North Carolina and the loss of Alabama. Democrats will be in control but too late to save Obamacare from the ax as well as women's right to choose.
Cory Gardner is all in with the Trump train. Ask yourself, when was the last time you saw a yard sign for Cory? The only one I saw in this valley looked so lonely, I was tempted to adopt it and add it to my loser collection with my George McGovern and Gary Hart posters. The GOP has already stuck a fork in this one, pulling the money out. Smells like 55% to 45% from here.
Which brings us to the question: If this year is 1938 in so many authoritarian ways, will next year by 2021 or Germany in 1939? I don't think Trump has a real shot with Pennsylvania, Michigan and Wisconsin. That means another fork stuck in another turkey: Trump's done.
If Florida counts the mostly mail and early votes promptly, it will be an early night. With 52% of the popular vote and "flips" of Arizona, North Carolina, Florida and Iowa, Biden wins barring an all-out effort to suppress the vote or seize ballots. That means 343 electoral votes in favor of staying in this century and 197 for repeating the darkness of Europe in 1939 or the I am not a crook regime under Richard Nixon in 1969.
Mick Ireland has the luxury of working for candidates he supports. His first exposure to the Electoral College and the state-by-state forecasts was a black-and-white network TV show in 1960 that pointed to the election of JFK over Richard Nixon. Send your picks to mick@sopris.net.