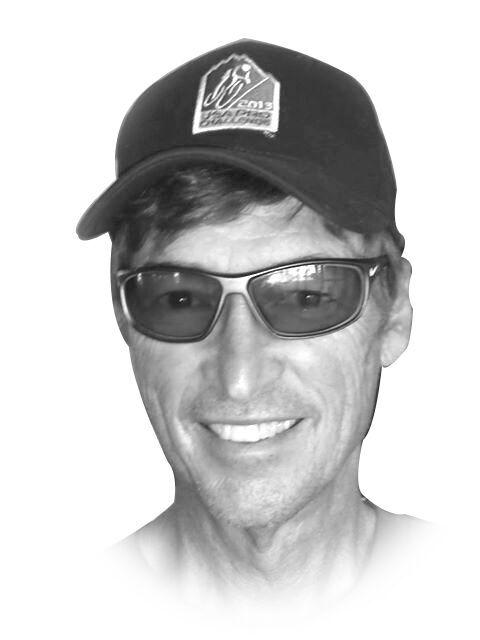 Mick Ireland is on a brief hiatus. This column originally ran Sept. 9, 2019.
Being, as we are, the most highly- or over-educated county in the country per capita, save Los Alamos where they invented you know what and if you don't know what, it's the thing North Korea is working to deliver by missile to a country near you.
I thought I would riff on the techniques of Joyce's "Portrait of an Artist as a Young Man" by sharing what it's like to race a bike, a real bike, not an e-bike, up to the Maroon Bells as fast as you can while still being pretty slow and listening to your brain slowly dissolve into a simple quest to finish and stop the pain.
Joyce starts "Portrait of an Artist" thusly: "Once upon a time and a very good time it was there was a moocow coming down along the road and this moocow that was coming down the road met a nicens little boy named baby tuckoo…" From there, the book goes on to test guilt and faith and evil with every writing voice imaginable.
Me, just doing a baby epic, testing myself.
This voice, these voices, stream of consciousness, nay genius gibberish, may bring to mind Hunter S. Thompson's "Fear and Loathing" set, or Lewis Carroll or something that doesn't make sense right away. It seems perfect, don't you think, to convey the thinking, if there be such, that runs through your head during a time trial up the Maroon Bells as the deprivation of oxygen degrades organized thought in a stream of lessening consciousness:
The time trial (TT) begins rationally, no moo cows coming down the road, just a bunch of us, a smaller than average turnout waiting for a turn in the pain cave. Silently. Among them, Ed Cross, five minutes ahead in the start order, is here to win to clinch the Anasazi 70-plus age championship he deserves, I won't see him going up and won't recognize anyone coming down.
Bill McKay, official spectator and a master's champion, wants to know what time I expect, 46, maybe 45 I say, lowering expectations. Check list: warm-up, brakes adjusted at the last minute, extra clothes off, start gear picked, place in line just ahead of a young woman racer in full TT gear, disc wheel, aero bars. I don't go fast enough up the Bells to warrant the extra weight of bars — how much wind does 10 miles per hour generate — ditto disc wheel or water bottle or repair kit. I hold out for a miracle, the hope that the head wind will die.
It doesn't. I suck in head winds, like a kite going the wrong way. I start anyway. 54 seconds down the hill, OK, no aerobars, been down this road so many times 54 seconds can predict total time within a minute or two if I can maintain. If. If.
It takes only two minutes for the next rider, she of disc wheel and full gear to catch me. Hi. Way to go, I breathe, yikes, at this rate, she should finish in about 34 depending on how adverse the aero wheel and bars are as the climb steepens. Too soon to be caught, bad sign.
Speed, heart rate, likely output at 200 watts OK if I can last another 40-45. 5:30 to the end of the only real downhill section, seven minutes to the last T Lazy 7 speed bump, a 45-minute ascent, yay? And on past the Forest Service entrance station where three times my clock at 13:40 could produce a 41:00 for the day, excellent.
The beauty of the TT is you don't know how fast your peers are racing so it doesn't matter, not your problem, they can't use my draft, I can't use theirs, no pack, no entanglements, no excuses. Personal responsibility on the Race of Truth, no one to blame, no umpires, no luck.
The road steepens, detachment begins. I watch Mick on the Pino Blanco white bike. The mind slows with the grade. Ten miles an hour, 9 miles, 8 mph past the Great Red Wall of an old slide. Mick, the dude, is thinking about you, the reader and your perception that biking is a good way to see the beauty surrounding the road, the trees, the flowers, the sky. Ha. He is wondering why he got here, is here, why he does this back of the finish order thing, seeing only pavement that is worn and smoother in the tire treads your cars make, wandering toward the double yellow, a decent runner could pass by. More young people going by. Some offer words of encouragement, some are silent. Bon Courage! Four pass by, 20:30 done, twice that plus one is 42:00 projected.
Now the real work begins in the shadows and twilight. Ditch the sunglasses, stuffed in shirt, not very aero but cooler on the sweat-stung eyes. Out of the saddle, trading one fatigued set of muscles for another, up and down intervals getting shorter. Stay on the drops, you don't have aero bars, it's slower to be upright, maintain cadences, don't grind, this isn't a floppy hat and sandals e-bike adventure. The texture of the road is all the scenery. Another young dude flies by — effortless form — No. 5, who cares. A random public policy issue intrudes but only for a moment.
Any thought of "winning" or "beating" someone or some time is long gone, it's about ­finishing, not bonking altogether. Sometimes pointless, other times feeling great, everything that kills me makes me feel alive, the song says. Ask any mid-pack runner — the goals get simpler as time goes on: get to the next mile marker, don't fall off the next person's pace, don't stop, don't wander, especially don't think about the final half mile to the finish, hurt waiting around a corner. Count pedal strokes, breaths, one to 10 over and again. Count. Count. Sesame Street Count. Count.
And then it's finish time, around the corner and half a mile on a steeper grade, out of the saddle, time check 36:00, crunch, grind, lame effort, whatever it takes, head wind. Money time. Forest Service yellow sign on the right, marmot X-ing sign?, parking lot on left, turn off for No. 1 lot on left, No. 2 lot entry DO NOT ENTER, stand up, sit down, stand up, stand down spin, tiny bump, spin, climb, sprint for 30 seconds and it's done.
Timers look up, it's getting dark and they are ready to call it a day as soon as Jacques, the 80-year old cancer survivor comes in and I am ready for a tail wind to push me back down the hill and let my mind rejoin my body. I am as the next gen says, "good" with whatever the result, first, last or somewhere in the middle of my peers, it doesn't matter, it's a wonderful way to live if only for 41 minutes and 40 seconds.
Mick Ireland has not, as of this writing, seen the race results. At least five were faster and four were slower. Try it sometime without pedal assist, you might like seeing yourself from outside the body.